The Spirit of the American Doughboy
The "Spirit of the American Doughboy" is memorialized in this statue by Ernest M. Viquesney.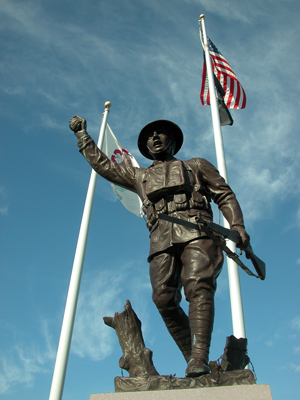 Following The Great World War patriotism was very high in Monroe County.  In Columbia, Illinois Memorial Day, originally called Decoration Day, had been observed by members of the Grand Army of the Republic [ G.A.R.] since it's inception during the late 1860's.  By 1920 the ranks of the G.A.R. were nearly depleted.  As a result, the newly formed American Legion Post 581 began organizing the Memorial Day ceremonies.  It was felt that a fitting monument should be erected to commemorate the sacrifices made by our local veterans.  While the focus of the statue was on the Doughboy of the Great War [ World War One ]  the monument was dedicated to "Our Sons and Daughters who served there nation in freedoms cause" during the Six Great Wars.  Those being;
The Revolutionary War  1775 – 1781
The Civil War  1861 – 1865
The War of 1812 – 1814
The Spanish American War  1898
The Mexican War  1846 – 1847
The Great World War  1917- 1918
Since the monument was first placed in a small plaza at the intersection of  Main Street  and Legion Avenue, it has been moved twice.  The first relocation found the monument facing the old Legion building at the intersection of  Legion Avenue and Metter Avenue in Columbia.
A few years later it was again relocated because that site was needed for construction of the new Public Library in Columbia.  Since that time the "Doughboy" has stood on the grounds of Post 581's Legion Park.  During the existence of the memorial, another plaque has been added to the side.  As a testament to the continuing struggle for freedom, three more wars have been added;
World War II  1941 – 1945
Korean War  1950 – 1953
Viet Nam  1960 – 1975
Lebanon/Grenada 1982 – 1990
Operation Just Cause Panama 1989 – 1990
Desert Shield/Desert Storm 1990 – Today
~~~~~~~~~~~~~~~~~~~~~~~~~~~~~~~~~~~~~~~~~~~~~~~~~~
Post 581's  Doughboy Statue has its' own Smithsonian Institution Art Inventory Control Number    47260022
Locate Doughboys from the Columbia area here:
http://doughboysearcher.weebly.com/columbia-illinois.html